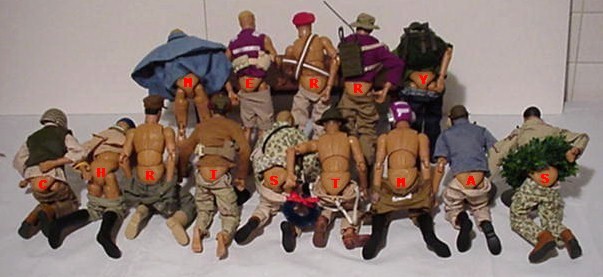 MERRY CHRISTMAS!
A couple of the Connecticut Joes got together to have a little fun and celebrate the Christmas spirit.
Dave and Val Michalczyk hosted a great party and John Bailey, Dave and Grace Feliu, and John Kozin all had a wonderful time. A few folks were missing but were with us in spirit.
A surprise diorama was in store for us. We got to pretend we were members of the Hasbro GI Joe R&D team and assembled new figures for the 2001 line.
First, 15 21st Century figures were set aside (a better figure for this project). Then, into boxes went headgear, shirts, pants, accessories, footgear, and weapons. Each person went along and randomly drew an item out of each box. No looking! What you got is what you made a figure of.
Throughout the pages are some photos of the figures and the dioramas. Have a look and enjoy!
On behalf of the Connecticut Joes and our families, we wish you and yours the best in health and happiness this Holiday Season!
Also a may your collections grow by leaps and bounds in the New Year!
Suggestions, comments, criticisim email me, John Kozin at: